Charities gain from Edinburgh Airport £1 fee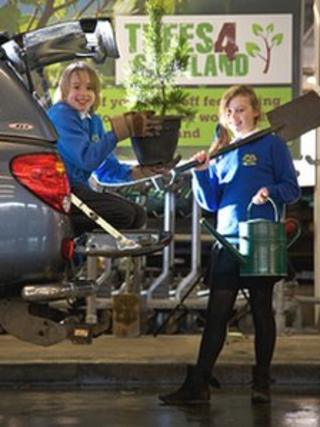 More than £100,000 has been raised for local charities from Edinburgh Airport's drop off charge.
Over the past 18 months the cash has been raised from 15p taken from the £1 charge passengers pay for being dropped off outside the busy hub.
The charge was introduced in October 2010, despite political and local opposition.
Trees4Scotland and Edinburgh City Council's eco schools programme are among those who have received cash.
Gordon Robertson, Edinburgh Airport spokesman, said: "We are keen for our passengers to understand that part of their £1 is helping to fund some excellent educational projects."
One of the most recent Environmental Fund beneficiaries is the Trees4Scotland's Tree Amigos programme which educates about 300 primary school pupils every year about climate change, carbon footprints, trees and woodland wildlife.
Money from Edinburgh Airport has gone toward planting native woodlands and supporting the students' learning.
Trees4Scotland founder Angus Crabbie said: "The money raised through Edinburgh Airport's drop off charge really makes a difference.
"The trees which are planted as a result of our work are not only a learning resource for children but they further help the environment by aiding the offset of carbon emissions, regenerating wildlife habitats and preventing soil erosion."