Edinburgh taxi driver robbed and punched at knifepoint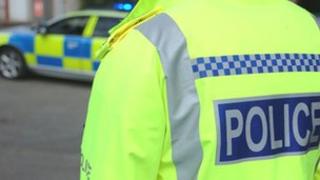 A taxi driver has been threatened with a knife and punched in the face after being called to a fare in Edinburgh.
The incident happened at about 20:30 on Thursday in Stenhouse Drive.
The driver of the private hire vehicle, a grey Skoda Octavia, was called to a fare in the street, where he was met by three men.
He was threatened at knifepoint by one of the men, who demanded money while another punched him and the third stole from his car.
All three then made off towards Broomhouse.
The first man was white, 25 years old, 5ft 8ins, with light brown, short, untidy hair, of medium build, and was wearing a black jacket with diagonal frontal zips, a blue hooded top, and blue jeans.
The second man was white, about 20 years old, 5ft 7ins, and of medium build.
The third man was similar a height, and was wearing a yellow tracksuit.
A Lothian and Borders Police spokesman said: "The victim has suffered a frightening ordeal at the hands of these three men, which thankfully did not result in him sustaining any serious injury.
"Nonetheless he has been left extremely shaken, and we are appealing for any information that can assist us in identifying those responsible."