Stolen Olympic ring found in Edinburgh pawn shop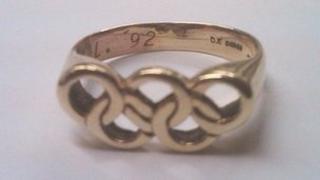 An Olympic team ring that was stolen from an Edinburgh Hotel has been found in a pawn shop in Edinburgh.
It was given at the Barcelona '92 games to British diving team manager, Bill Law, who left it to daughter Suzanne Ireland following his death in 2009.
Ms Ireland was wearing the ring at a Hogmanay Party at Ellwyn Hotel last month and after removing it from her hand, she noticed it was missing.
Cash Generators shop in Great Junction Street reported it had the ring.
Lothian and Borders Police Search and Recovery Team carried out local enquiries to trace the ring and contacted pawnbrokers and second-hand stores across the capital to help with their investigation.
On Wednesday, the Cash Generators shop in Great Junction Street told police a ring matching the description had been sold to them and police seized it and it was later confirmed as the stolen Olympic keepsake.
Extremely grateful
Officers are now following a positive line of inquiry to identify the thief and have praised staff at the store for their help.
Ch Insp Matt Richards, of Lothian and Borders Police, said: "Once again the co-operation of responsible retailers in the second-hand trade has proven vital in returning a missing item to its rightful owner and providing essential information to help trace the suspect.
"The victim was delighted to have the ring back in her possession and she is also extremely grateful to the staff at Cash Generators for helping return an item of immense sentimental importance.
"Anyone who, for whatever reason, comes across an object of value, should hand it in to their local policing team.
"Failure to do so, or any attempt to sell the item on for personal profit is a crime and anyone found to be responsible will be robustly dealt with."