Occupy Edinburgh protesters in Meadows tent move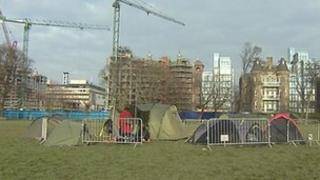 Protesters who moved their camp from an Edinburgh square before they were evicted have pitched their tents in a nearby park.
Occupy Edinburgh has set up camp in The Meadows after moving from St Andrew Square last week.
The group said it had learned from mistakes made at St Andrew Square by having an alcohol ban at the new site.
Edinburgh City Council said they had asked the protesters to leave and were seeking legal advice.
An Occupy Edinburgh spokesman said: "The Meadows is common land and we have the right to use it."
He added: "We have reinforced our safer spaces policy after learning from some of the mistakes made at St Andrew Square.
"We will enforce a strict no-alcohol policy on site and will be providing valuable community events and educational information for the public."
Patrick, 33, a volunteer for Bethany Trust and Rock Trust, said: "The root causes of inequality in this country have not changed and the banking system is still unregulated so we will continue to campaign until significant change is made."
The previous camp lasted more than 100 days.
Robert Aldridge, Edinburgh City council's environment leader, said: "The council's position is quite clear - we do not allow camping on the Meadows and we have asked the Occupy Edinburgh protesters to leave.
"We are currently seeking legal advice and will continue to liaise with the police and protesters."