Study 'sheds new light' on how superbugs resist antibiotics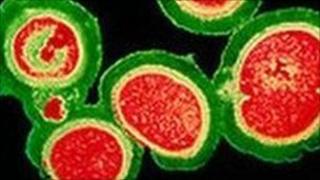 Scientists in Edinburgh say they have shed new light on the way superbugs like MRSA are able to become resistant to treatment with antibiotics.
Edinburgh University researchers mapped the complex molecular structure of an enzyme found in many bacteria.
The molecules, known as restriction enzymes, control the speed at which bacteria can acquire resistance to drugs and eventually become superbugs.
Results from the study on E. coli can apply to many infectious bacteria.
After prolonged treatment with antibiotics, bacteria may evolve to become resistant to many drugs - as is the case with superbugs such as MRSA.
Bacteria become resistant by absorbing DNA, usually from other bugs or viruses, which contains genetic information allowing the bacteria to block the action of drugs.
Genetic material
Restriction enzymes can slow or halt this absorption process and are believed to have evolved as a defence mechanism for bacteria.
The researchers were able to model the mechanism by which the enzyme disables the foreign DNA, while protecting the bacteria's own genetic material.
The study was carried out in collaboration with Leeds University and Portsmouth University with partners in Poland and France.
It was supported by the Biotechnology and Biological Sciences Research Council and the Wellcome Trust and published in the Genes and Development journal.
Dr David Dryden, of the University of Edinburgh's school of chemistry, who led the study, said: "We have known for some time that these enzymes are very effective in protecting bacteria from attack by other species.
"Now we have painted a picture of how this occurs, which should prove to be a valuable insight in tackling the spread of antibiotic-resistant superbugs."