Royal Yacht Britannia to open after repaint in Leith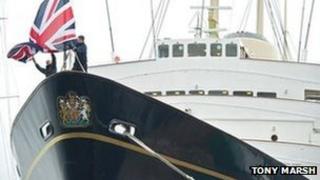 The Royal Yacht Britannia is to reopen to the public on Wednesday following routine maintenance and repainting.
The ship is back at its permanent berth at Ocean terminal in Edinburgh after spending 11 days in dry dock.
While it was being moved from its mooring in Leith on 6 January, it developed a leak in a door seal and began listing on its starboard side.
Fire crews helped to pump water from the ship before the leak was repaired.
This was the first time the Britannia had been moved from its Edinburgh berth in almost 14 years.
More than 2,500 litres of paint was used during the refurbishment. It will be 20 years before the ship needs to go back into dry dock for another repaint.
Masts and funnel
Bob Downie, chief executive of The Royal Yacht Britannia, said: "It's great to have Britannia back at her permanent berth and ready to open to the public again after undertaking an enormous amount of work whilst we were closed to the public.
"The good news is that our insurance surveyors have given Britannia's hull a very clean bill of health and it should be another 20 years before having to go back into dry dock.
"This is a great testament to the work that was undertaken when Britannia first arrived in Leith in May 1998 and to the original builders at John Brown's Shipyard, Clydebank.
'We have also taken the opportunity to repaint the masts and funnel, as well as many other jobs on the visitor route that could only be done whilst closed to the public."
The yacht served the Royal Family for more than 44 years, travelling more than one million miles before being decommissioned.
It had a record-breaking 275,000 visitors in 2011.