Edinburgh attacks on two women may be linked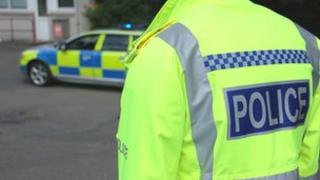 Two women have been attacked less than two miles from each other in Edinburgh.
A 59-year-old woman was on Blackford Road at 23:30 on Monday when someone grabbed her from behind and tried to take her bag.
Then at 00:20, a 50-year-old woman was in St Peter's Place at Horne Terrace, when a man approached her from behind.
In both incidents a small knife was produced. Lothian and Borders Police have not ruled out the attacks being linked.
In the first attack the woman struggled with the attacker she was hit in the face and was left with cuts and bruises.
She gave in and handed over her purse when the mugger produced a small knife and tried to cut the bag free.
The purse contained a small amount of money.
The robber, thought to be aged 18-20, ran off towards a dark-coloured, Transit-style van which then drove along Blackford Road and turned into Whitehouse Loan.
It is unclear if the robber was male or female but he or she was white, 5ft 5in, wore a grey hooded top and spoke with an Edinburgh accent.
During the second attack about 50 minutes later, a man produced a small knife and demanded the woman's bag.
The woman managed to hold on to her belongings but she fell to the ground and was kicked and punched by the attacker.
'Left shaken'
The man was disturbed when someone appeared at a window of a nearby property and he ran off towards Viewforth Place.
He was white, between 18-25, of slim build and about 5ft 10in. He was wearing a light green/khaki woollen beanie hat, a dark jacket and dark trousers.
A Lothian and Borders Police spokesman said: "At the moment these two incidents are being investigated separately.
"However, we cannot rule out the possibility they could be linked, so we are appealing for anyone with any information to come forward.
"Fortunately, neither woman was seriously injured but both have been left understandably shaken.
"We would be keen to hear from anyone who may have seen some suspicious activity in either Blackford Road or St Peter's Place last night, and would urge anyone with any information to contact us."