Thousands sign up for light event in Edinburgh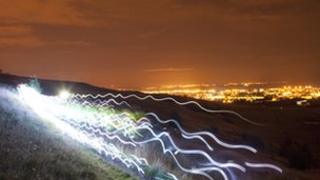 More than 2,500 runners from around the world have signed up to help light up Arthur's Seat in Edinburgh to celebrate the 2012 Olympic Games.
Every night for three weeks in August, hundreds of runners in special lightsuits will run across the extinct volcano to create a light display.
Runners will follow specially choreographed routes up the hill, which is situated in Holyrood Park.
Organisers of Speed of Light are calling for more runners to join.
Participants range from 17 to 70 years old.
Each runner must have the stamina to complete a 3km to 5km (2-3miles) hill run.
There is also a £10 registration fee.
In addition to runners, audience members, 800 per night, will be integral to the event.
They will generate their own light through bespoke walking staffs as they climb to the summit.