Det Insp Brian Stuart awarded for wildlife crime work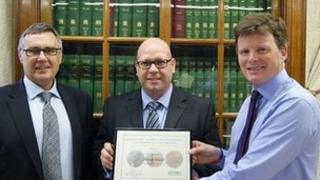 A Lothian and Borders Police officer has been awarded for his "dedication to tackling wildlife crime" in the UK.
Det Insp Brian Stuart has been given International Fund for Animal Welfare's wildlife crime enforcement award.
The award recognises "outstanding efforts in combating wildlife crime".
He handles all wildlife crime including trade in endangered species, reptile smuggling, illegal ivory, taxidermy, badger baiting and hunting with dogs.
Det Insp Stuart was presented with his commendation by Environment Minister Richard Benyon at Defra offices in London on Thursday.
Det Insp Stuart said: "This achievement recognises the excellent work of my team and the wider partnership that exists locally, nationally and internationally in fighting organised wildlife crime.
"Wildlife crime is truly local to global and requires a similar approach to deal with it.
"The last three years has seen many challenges that without the support of organisations such as IFAW would have been that more difficult to overcome."
Chief Constable David Strang, of Lothian and Borders Police, said: "I am delighted that Det Insp Brian Stuart's hard work and dedication has been recognised by an international organisation.
"The work of the National Wildlife Crime Unit, which is based in our force area has impacted at a local, national, and international level in terms of targeting wildlife offenders, and I hope this commendation will inspire his colleagues to continue the good work in the future."