Occupy Edinburgh protesters in court over Meadows camp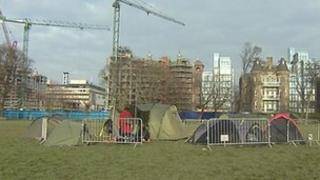 Anti-capitalist protesters, who ended their occupation of Edinburgh's St Andrew Square, have returned to court to fight eviction from The Meadows.
Edinburgh City Council asked Edinburgh Sheriff Court to grant an order to evict Occupy Edinburgh.
Representing Occupy Edinburgh, William Black, asked for the case to be adjourned to allow them time to obtain legal advice.
Sheriff Kathrine Mackie continued the case to next Friday.
Mr Black told Sheriff Mackie a meeting had been arranged with a lawyer next Tuesday.
The protesters, he said, wanted to know if the council had the right to evict them from public land and if they would be in breach of the European Convention on the right to protest. He said eviction was disproportionate.
He claimed that at a meeting in November an offer had been made that if the protesters left St Andrew Square they could go to The Meadows.
Edinburgh City Council's solicitor, Fiona Reid, denied any offer had been made.
Sheriff Mackie said: "It is difficult to resist the application for time to obtain legal advice about a matter which is not necessarily straight-forward.
"I think the best thing I can do is to continue this to next Friday, that will allow you (Occupy Edinburgh) time to get advice".