Woman gives birth outside Victoria Hospital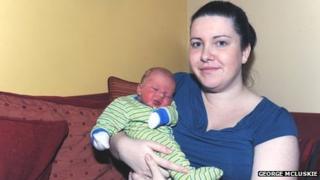 A woman has given birth on the pavement outside a Fife hospital after she was unable to get inside the building.
Lisa McNeil said she had to wait for nurses to answer the buzzer at Victoria Hospital in Kirkcaldy, Fife.
The 25-year-old second-time mother from Glenrothes was already in advanced stages of labour when she got to the maternity unit at 00:14 on Sunday.
NHS Fife insisted midwives reached Ms McNeil within two minutes of the buzzer being pressed.
Ms McNeil had rung ahead, but the doors to the unit were closed. Temperatures were around freezing at the time.
She said her family rang the buzzer to get in and that baby Jackson was born before anyone was able to answer the door. NHS Fife said midwives were present when the baby was born.
'Screams for help'
Ms McNeil told the Daily Record newspaper: "It was like a horror movie. I was in a lot of pain and bleeding. I don't remember much because I was screaming in agony for six minutes while we waited for someone to help us.
"They knew I was coming but no-one heard us buzzing to get in or our screams for help.
"I don't think anyone should be put through the humiliation of having to give birth on a pavement outside a hospital in front of strangers."
When midwives arrived to open the door, Ms McNeil said Jackson had been born. Nurses cut the umbilical cord and took Mrs McNeil, who was released from hospital on Sunday night, up to the ward.
A statement from NHS Fife confirmed a woman had phoned ahead to say she was on her way to the hospital.
It said midwives made their way to the door to admit her when the buzzer rang, but labour was so far advanced that the baby was delivered at the door of the maternity.
The health board said it appreciated it was a difficult time for the family, but that it was not always possible to predict the speed of delivery.