Siddique murder trial: Brother gives evidence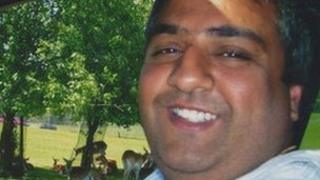 A Fife property developer accused of killing his millionaire brother has told a trial how their profitable business relationship began to sour.
Mo Siddique, 42, Tencho Andonov, 28, and Deyan Nikolov, 27, deny murdering Toby Siddique.
Toby Siddique, 38, was gunned down in a flat in Glenrothes on 24 October 2010.
Mo Siddique, who is from Auchtertool in Fife, began giving his evidence in front of a jury at the High Court in Edinburgh.
Father-of-four Mo Siddique said he moved to Fife when his factory worker father bought a chip shop.
They worked long hours, sleeping in the back of the shop until they could afford the rent for a council house.
Mo Siddique took over running the family business, by then expanding into other areas, when his father suffered a heart attack.
Toby, who had been studying for a medical degree, then decided to join him in business, said Mo.
He described how they began buying and doing up flats for rent and set up a company, Moncreiff Properties.
He told defence QC Derek Ogg at that time their relationship was "great."
Mo Siddique said the "catalyst" for changes which happened later came after his brother, Toby, had been jailed for fraud.
When Toby was released he immediately went away to spend a weekend with his girlfriend and persuaded Mo to cover for him with his wife.
Another difficulty stemmed from Toby's fraudulent activities. Mo Siddique said while his brother was serving a sentence for a £320,000 fraud he was slashed on the orders of two business associates who claimed they had been ripped off.
Mo said he and Toby sat down together and he told his brother that fraud was unnecessary because they were making more money than they could spend.
"He said it was a mistake. He was my brother and I believed him," said Mo. But, he added: "Within three months he was back at it."
Major fraud
Mo said at that point he stopped having anything to do with the day-to-day running of the company and concentrated on looking after his sick mother.
Things changed again when Toby Siddique was accused of a major benefit fraud and thought he was going back to jail.
In the end, others took the blame in return for £5,000 and a holiday in Tunisia, Mo claimed.
But before the charges against Toby were dropped, moves were under way to bring Mo back as the head of the business in which both had a 50-50 share.
Toby Siddique died at a flat in Forres Drive, Glenrothes, on October 24 2010. The trial has heard allegations that he was lured there by the promise of cheap, contraband cigarettes and alcohol.
Another man, former security guard David Dalgleish, 44, who lived there, was also injured during the incident.
Delivery man Mr Andonov denies attempting to murder Mr Dalgleish.
Mo Siddique and night-club bouncer Mr Nikolov were formally cleared of that charge on Tuesday after legal submissions.
Mo Siddique also denies that in Blue Mondays night spot in Kirkcaldy High Street in August or September 2009 he offered two men £1,000 to assault and murder his brother and his brother's "right hand man" Marc McHardy.
The trial continues.