Driver Daniel Brackenbury caused death of passenger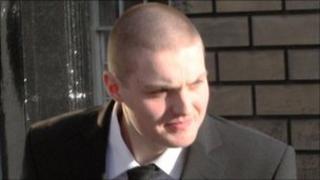 A young driver who killed a friend in a crash on a dark, country road in wintry weather was estimated to be travelling at more than 85mph, a court has heard.
Daniel Brackenbury lost control of his car and hit a bridge in Fife resulting in the death of his 19-year-old front seat passenger Darren Robertson.
The High Court in Edinburgh heard the crash happened in December 2011.
Brackenbury, 21, from St Monans, in Fife, pled guilty to causing the death of Mr Robertson by driving dangerously.
A motorist who was driving behind Brackenbury estimated that he must have been travelling at more than 85mph before leaving the road.
Parents 'bereft'
Police accident investigators believe his Honda Civic was likely to have been launched through the air.
The vehicle landed in a field more than 21m from the point of impact, after the crash on the B9171 between Dunino and Ansthruther.
Brackenbury admitted driving at excessive speed for the road and weather conditions and causing his vehicle to cross the carriageway and leave the road.
Advocate depute Richard Goddard said: "The loss of their only son at the age of 19 has left the parents of Darren Robertson bereft."
After the crash firefighters had to remove Brackenbury and Mr Robertson from the vehicle.
'Deep remorse'
Brackenbury was flown to Ninewells Hospital in Dundee with serious leg injuries. Mr Robertson was pronounced dead. He suffered multiple injuries, including a severe head trauma.
Brackenbury was later interviewed by police and could not remember any of the events of the day of the accident.
The court heard that at the time of the crash there had been a recent heavy fall of snow, but the road was in a good state of repair and no defects were found on the Honda car.
Defence counsel Ronnie Renucci said Brackenbury recognised that there was nothing he could say that would lessen the impact for the loss of Mr Robertson on his family, but expressed his "deep remorse".
The judge, Lord Bannatyne, deferred sentence on Brackenbury for the preparation of a background report.