Robert Greens' lawyer loses bid to challenge supervision order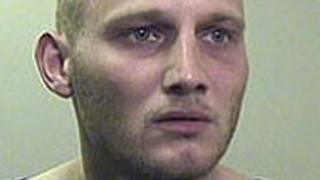 A solicitor has failed in his bid to win a court battle to challenge a supervision order imposed on a convicted rapist.
Tony Kelly argued that the terms of the order impost on Robert Greens contravened his client's human rights.
Lothian and Borders Police were given unrestricted access to Mr Greens after he was released from prison.
Sheriff Arthurson agreed to allow the order and refused Mr Kelly the right to appeal the decision.
Mr Greens was released from jail in January after serving five years for the rape of a 19-year-old Dutch student near Rosslyn Chapel in 2005.
Human rights specialist Mr Kelly argued that the 23 individual restrictions on his client's liberty, including not being able to come into contact with women, prevented him from living a normal life.
Mr Kelly also detailed how his client was electronically monitored, accompanied at all times by police officers and had two specialist social workers residing with him permanently so that one is always awake.
Additionally, Mr Greens is not allowed to approach children or women under any circumstances, is not allowed any access to the internet and is subject to curfews and travel restrictions.
Representing Lothian and Borders Police, Andy McGlone said: "We recognise that Mr Greens may have to go into a shop and be served by a female member of staff - or would have to stand beside a woman at a bus stop.
"We recognise that these casual encounters are unavoidable. And I will move to amend the terms of the order to recognise this fact.
"However, this man is a risk to public safety. His risk of re-offending is high. He has made threats of violence to people from prison.
"He has a very violent past and he has been diagnosed as a psychopath. Is he a sexual danger? My answer is unequivocally yes."
Mr McGlone added: "The offence he was convicted of was impulsive. The most worrying thing is that he doesn't accept he raped the victim.
"This is despite overwhelming DNA evidence and conviction.
"How can he address his offending behaviour if he can't admit his guilt?"
In granting the order, Sheriff Arthurson said he was satisfied the supervision order did not contravene Mr Greens' human rights.