Edinburgh armed robbery pictures released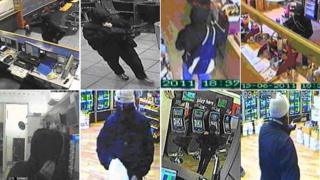 Police investigating seven armed robberies across Edinburgh have released CCTV images of the suspects.
During each robbery between June and October last year, a handgun was pulled out before the stores had money stolen from tills and safes.
The robberies were at bookmakers and off-licences in Edinburgh.
The thieves struck at premises in Dalry Road, Melville Drive, North West Circus Place, Leith Walk, West Maitland Street, Lothian Road, and Home Street.
The pictures show the robberies taking place.
The police said they were keeping an open mind as to whether the robberies were linked.
Witnesses are being urged to come forward.
Det Insp Dave Pinkney, of Lothian and Borders Police, said: "In each of these robberies, a man walks into the premises, produces a handgun and robs the store of its takings.
"The CCTV footage we have obtained does not conclusively prove the same individual is responsible for these crimes and so the assistance of the public is vital for identifying the suspect, or indeed, suspects.
"There was approximately a six week gap between the robberies in June and those in August and then roughly another six week gap between the last incident, which happened in October.
"This may or may not be significant and so we are eager to hear from anyone who can assist us with the various lines of inquiry we are following at this time."