London 2012: Taxis and cars banned from Edinburgh Waverley Station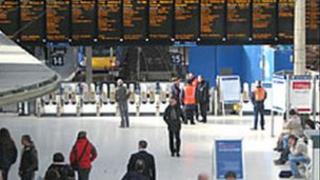 Taxis and cars are to be banned permanently from Edinburgh Waverley Station as part of anti-terrorism measures.
The move comes into force at the end of July in time for the London 2012 Olympics.
Network Rail, which runs Waverley, said it was the last major station to still allow cars underneath the station roof.
Officials said they would install a plan for people with disabilities and the elderly to be able to exit.
A Network Rail spokesman said: "To comply with security legislation, Network Rail has agreed to remove taxis and private vehicles from Edinburgh Waverley Station by the end of July 2012.
"Waverley is the last major station operated by Network Rail to allow private vehicles under the station roof and this has been designated as a security risk. Network Rail is required to comply with legislation to remove vehicles prior to the London Olympic Games. The order applies to major transport hubs across Britain.
"Network Rail has been working with Edinburgh City Council to examine options for an alternative location for a station taxi rank and drop off area.
"Security is an important issue and we support these measures, although we recognise this change in policy will cause some concerns for our passengers, particularly those with reduced mobility and heavy baggage and we will do all we can to retain accessibility."
He added: "In recent months, we have reopened the improved Waverley Steps access with escalators and by summer, we will have a new fully accessible entrance from Market Street open, along with lifts to Princes Street.
"In the mean time, we will continue to work with Edinburgh City Council to identify a suitable solution for the provision of a taxi rank and drop off zone as close to the station as possible."