Domestic abuse court to be piloted in West Lothian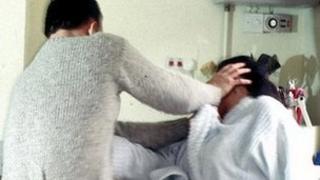 Up to 30 cases of domestic abuse could be dealt with each month at a new specialist court due to get up and running in West Lothian.
The dedicated court to tackle abuse in the home will be piloted at Livingston Sheriff Court from Thursday.
Officials believe the new system will show they are taking domestic abuse seriously and they hope it will lead to more perpetrators being convicted.
It will initially run for a year and deal with 20 to 30 cases a month.
Graeme Jessop, the interim district procurator fiscal at Livingston, said: "We know that many instances of domestic abuse are not reported to the police but also recognise the difficulties victims encounter in having the strength to come to court, often after years of abuse.
"This pilot allows the prosecution and our victim and information service to continue to show its strong response to this type of crime and to build a better service to victims through strong multi-agency specialist working."
The court will bring together various organisations currently working with people affected by domestic abuse, such as the Crown Office, police, Victim Support Scotland and the local council's domestic abuse and sexual assault team (DASAT).
10 weeks
Under the new set-up, all of the cases will be dealt with in court by dedicated prosecutors and sheriffs.
It is also expected that trials will get under way within eight to 10 weeks of an accused's first appearance in court.
The current average is 14 to 16 weeks.
It becomes the fourth area in Scotland to be covered by a specialist domestic abuse court. Similar courts are already in operation in Edinburgh, Dunfermline and Glasgow.
Det Insp Matt Paden, of Lothian and Borders Police, said: "Within West Lothian we already work closely with partner agencies to provide support and information to victims of domestic abuse and refer them to the domestic abuse and sexual assault team when appropriate.
"This multi-agency approach is geared towards preventing and reducing domestic abuse. The introduction of the first domestic abuse court in West Lothian will undoubtedly enhance this process."
Susan Lawson, of DASAT, said: "In our experience, women's perceptions of the criminal justice system, rightly or wrongly, are that domestic abuse is not always taken seriously and this is often a factor in decisions to withdraw complaints.
"The introduction of the domestic abuse court quite clearly demonstrates to victims and perpetrators that domestic abuse is indeed considered serious.
"As a result, this may lead to an increase in the number of victims coming forward and consequently an increase in the number of convictions.
"This should inevitably lead to victims in our community getting the justice they so rightly deserve for this heinous crime."