Pet ban for Edinburgh man who dumped dog in garden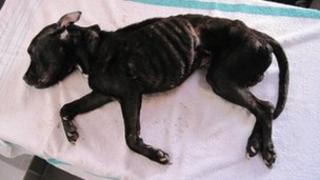 A man who dumped the body of his neglected dog in a neighbour's garden has been banned from keeping animals for life.
Darren Dallas, 27, from Edinburgh, was also placed on probation for three years.
He was sentenced at Edinburgh Sheriff Court after earlier pleading guilty to causing the dog unnecessary suffering.
The Staffordshire Bull Terrier died of asphyxiation after becoming dehydrated and malnourished.
The offence happened between 8 October 2010 and 8 January 2011.
Dallas may have caused the dog's death by trying to feed it when it had a medical problem which prevented it from eating.
Defence solicitor, Duncan Hughes, earlier told Sheriff Derrick McIntyre his client had learning difficulties and was unable to read or write.
He led an isolated life and got the dog, Jack, for company.
'Gross neglect'
Insp Stuart Murray, of the Scottish SPCA, said: "This was a horrific case of neglect and the fact that Dallas dumped Jack's body like a piece of rubbish was sickening.
"We are pleased a life ban on keeping animals has been imposed as Dallas has demonstrated he is completely unfit to care for animals.
"This result also sends out an important message that owning an animal is a privilege and not a right."
He said the bull terrier had suffered a great deal.
"His body weighed under 9kgs, when a dog of his breed and age should have been around 20kgs," he added.
"Pets rely on their owners entirely for their wellbeing and it is unacceptable for someone to ignore their animal while it suffers in silence."