Fire couple rescued from balcony at Kirkcaldy flats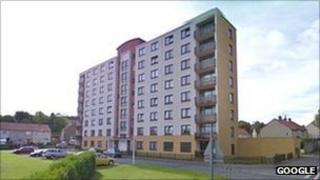 Two people have been rescued from a sixth-floor balcony after a fire broke out in their Fife flat.
Fire fire crews were called to the scene at the eight-storey Park View flats at about 00:10.
They found a man and woman on the balcony of the sixth-floor flat and brought them down to safety, Fife Fire and Rescue Service said.
The pair were treated for smoke inhalation by an ambulance crew but did not need to go to hospital.
Fire Fire and Rescue Service extinguished the blaze by 02:00.