Call for Edinburgh Waverley Station taxi ban delay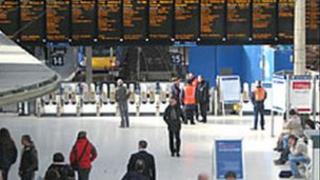 A call for a delay to a permanent ban on taxis and cars inside Edinburgh Waverley Station has not been accepted by the station's owner.
Edinburgh City Council has asked for the plan to be moved to the end of the year in a bid to give it time to move the taxi rank outside the station.
Last week Network Rail announced it wanted to remove all vehicles by July for security reasons.
Network Rail said it was still "working towards" a July ban.
Network Rail, which runs Waverley, said it was the last major station to still allow cars underneath the station roof.
A Network Rail spokesman said: "The council has asked for a delay in the removal of vehicle access to the station, but no agreement has been reached at this time. We are currently working towards July 2012."
Officials said they would install a plan for people with disabilities and the elderly to be able to exit.