Footballer Garry O'Connor's charge causing 'difficulties'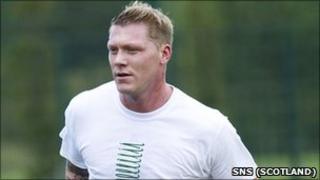 Footballer Garry O'Connor wants to resolve claims he was caught with drugs by police because the allegations are causing "contractual difficulties."
Edinburgh Sheriff Court heard the Hibs player wants a resolution to charges which allege he resisted police arrest and was caught possessing cocaine.
However, he said he was not ready to go to trial on Thursday as his defence QC Paul McBride was at another court case.
Sheriff McIntyre adjourned the trial until 13 May 2012.
A pre-trial hearing will take place on 2 May 2012.
The former Birmingham city star has pleaded not guilty to a charge of resisting police arrest in Hope Street Lane, Edinburgh, on 14 May 2011.
The footballer, from North Berwick, East Lothian, also denies possessing a quantity of cocaine on the same date at the same location.