AG Brown in Fife fined after Craig Stewart's leg crushed by lathe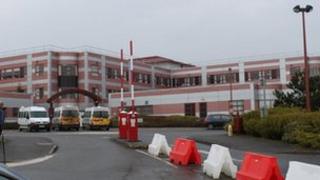 A man whose leg was crushed by a 1.25 tonne lathe discharged himself from hospital without treatment after being told his younger brother had died, a court has heard.
Amateur footballer Craig Stewart, 22, suffered the injury when a machine failed while the lathe was being moved out of a disused workshop.
Fife firm AG Brown admitted health and safety breaches and was fined £10,000.
Sheriff James Williamson said the operation was "doomed to fail".
He also said it had involved a complete lack of thought.
Kirkcaldy Sheriff Court heard that the lathe fell onto Mr Stewart as he and a colleague were attempting to manoeuvre it out of the workshop balanced on three trolleys, or "skates", and partially suspended from a strap flung over the forks of the forklift.
The accident happened at the firm's workshops on the Southford Industrial Estate in Glenrothes on 26 May 2010.
Depute fiscal Anthony Bonnar said: "Mr Stewart noticed one of the skates was squint and was squatting and attempting to straighten it when the lathe toppled towards him, trapping his leg beneath a back panel.
"His colleague used the forklift truck to move the lathe off Mr Stewart, who managed to grab a table leg and haul himself clear."
Mr Stewart was rushed to the Queen Margaret Hospital in Dunfermline having suffered crush injuries and a fractured tibia.
However, Mr Bonner said that on arrival, he was immediately told that his younger brother had died so he discharged himself from hospital.
He later went back to hospital and had surgery and a pin inserted in his leg.
Left unsupervised
Mr Bonnar said it was unclear how the treatment delay had affected his recovery.
He was off work for several months, but is now working as a steel erector in Aberdeen.
However, his leg was still too painful to play football, and he felt embarrassed by the scar when wearing shorts.
The prosecutor said a Health and Safety Executive investigation concluded that the accident had happened because Mr Stewart and his colleague had been left unsupervised to devise their own method of moving the lathe.
He said: "The method adopted was unsafe because only three rather than four skates were used and this was inherently unstable.
"The lathe was later safely removed with the use of a jib, which had been available all along. It was therefore reasonably practical to use a jib rather than loop the ends of a strop over the forks of a forklift truck."
AG Brown Ltd pleaded guilty to failing to ensure Mr Stewart's safety, failing to make suitable risk assessments, and failing to provide a safe system of working.
'Extreme regret'
Defence solicitor Lynne Macfarlane said the company wanted to express its "extreme regret" for Mr Stewart's injuries.
She said: "Trying to move the lathe on three skates was foolhardy."
She said that although the firm had returned a gross profit of £740,000 last year, it was "significantly in debt" to HMRC and its bankers.
Imposing the fine, Sheriff Williamson said: "This piece of plant was moved without any thought being given to how it could be done safely. There was no risk assessment, and it was left to the men on the ground to make the best they could of a dangerous job.
"What they came up with was frankly Heath Robinson.
"It was doomed to failure and a man suffered a serious injury.
He added: "The company otherwise has a good health and safety record and this is almost an aberration.
"It may have been that they allowed their standards to slip considerably in carrying out work for themselves as opposed to profitable work."
The company, which employs 48 people, specialises in structural steel fabrication and metal staircases.
It has recently completed the fabrication and erection of the steelwork for a 2012 London Olympics building and previously had an unblemished safety record.