London 2012: Olympic rings plan for The Mound in Edinburgh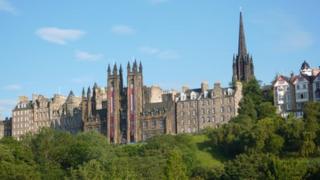 The Mound in the centre of Edinburgh has been chosen as the preferred site for a set of 8m (26ft) Olympic rings.
The UK government's Department of Culture, Media and Sport said details of the planning application would be made available for public view shortly.
It wants to place the huge aluminium rings, followed by the Paralympic Agitos, on the Edinburgh hill as a focal point for Olympic celebrations.
The DCMS said it planned for the rings to be illuminated at night.
They are being funded by the UK government.
A plan to put the rings on Edinburgh Castle was withdrawn after meeting public opposition.
An offer to put the rings at the Hillend Ski centre in Midlothian was rejected.
The Mound is an artificial hill in central Edinburgh which connects Edinburgh's New Town and Old Town.
The Olympic rings would be visible throughout much of the centre of the city, especially the main shopping street Princes Street.
The Olympic torch will be visiting Edinburgh on 13 June, where there will be an evening celebration.
The London 2012 Olympics run from 27 July to 12 August.
There will also be a Paralympic torch flame festival in the city on the 26 August.
The Paralympic Games run from 29 August to 9 September.
Edinburgh will also be taking part in the Cultural Olympiad including the Speed of Light which will see thousands of runners with specially-designed 'light suits' run set routes around Arthur's Seat.
The planning application for the rings has been submitted to the City of Edinburgh Council.