Woman and child found dead in house in Sighthill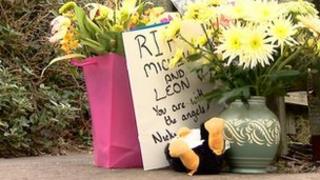 The bodies of a woman and a child have been found in a house in Edinburgh.
Lothian and Borders Police said a 31-year-old woman and her five-year-old son were found in a house in the Sighthill area of the city at about 17:00 on Tuesday.
Police have not identified the woman and child but they were named locally as Michelle Stephen and her son Leon.
A police spokesman said it appeared to be "a very tragic set of circumstances".
He said: "Our inquiries are at a very early stage and centre on their movements yesterday and how they died."
It is understood the pair were found by Mrs Stephen's husband at their home in Parkhead Grove.
Police are now trying to piece together what happened in the house, and said they are not looking for anyone else in connection with the incident.
BBC Scotland understands Mrs Stephen worked at a nearby secondary school, and the family was not involved with any social work agencies.
Floral tributes
Post-mortem examinations will be carried out to determine the causes of their deaths.
The area was still cordoned off on Wednesday morning, with two uniformed police officers and a police command unit van at the scene.
Tearful women laid floral tributes at the gate to the property. A cuddly penguin toy was also placed there.
One bouquet bore a message which said: "RIP Michelle and Leon. You are with the angels."
One neighbour, who did not want to be named, said: "I knew the little boy and the woman who lived there just to see.
"He was a lovely wee boy and seemed very happy. The mother was quite quiet but you could tell she was a good mum.
"I was shocked when I saw all the police and heard they had died. It's such a quiet street, the kids can play there with no bother.
"You read about this sort of thing in the papers and you never, ever expect it to happen to someone you know."