Driver Daniel Brackenbury jailed over death of passenger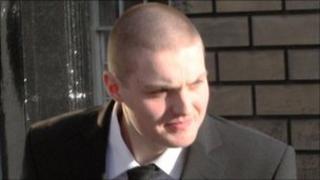 A young driver who killed a friend in a crash on a dark, country road in wintry weather has been jailed for 30 months.
Daniel Brackenbury lost control of his car and hit a bridge in Fife resulting in the death of his 19-year-old front seat passenger Darren Robertson.
The crash happened in December 2011 on the road from Dunino to Ansthruther.
Earlier this month, Brackenbury, 21, from St Monans, in Fife, pled guilty to causing the death of Mr Robertson by driving dangerously.
A motorist who was driving behind Brackenbury estimated that he must have been travelling at more than 85mph before leaving the road.
Sentencing Brackenbury at the High Court in Edinburgh, Judge Lord Bannatyne said: "What happened on the day of this incident was a dreadful tragedy.
"The death of Mr Robertson has clearly had a devastating impact on both his immediate and extended family."
The judge said he took into account that there were no drink or drugs involved, nor was there racing or a series of dangerous manoeuvres leading up to the fatal incident.
But Lord Bannatyne said the speed limit on the road was 60mph.
The judge added: "I have to note you were very familiar with this road. I note that at the time of this event it was dark, there were no street lights at the locus, there had been a recent heavy snowfall and there were light patches of frost present.
"I also note you had accumulated six points for speeding within six months of passing your test."
Lord Bannatyne said Brackenbury would have faced a 45-month prison term, but for his guilty plea.
The judge also banned him from driving for five years and ordered him to resit a test.