Scotland rugby star Max Evans cleared of assault by Edinburgh court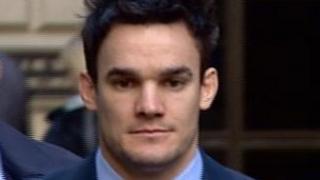 A Scotland rugby international has been cleared of assaulting a man in an Edinburgh nightclub.
Max Evans, 28, denied attacking Alasdair McCaig in the Lulu nightclub in August 2010, claiming he acted in self-defence.
It was alleged he struck Mr McCaig, 29, in the face with a glass, to his severe injury and permanent impairment.
But Mr Evans, who has 26 Scotland caps, was found not guilty by a jury at Edinburgh Sheriff Court.
The jury took less than an hour to return the verdict after a five-day trial.
Mr Evans said: "It's been a challenging time for me and my family and friends and I would like to thank everyone who has been supportive over the recent weeks and months.
"I would also like to thank the jury for their diligence in reaching their verdict.
"I will now put this behind me and be very focused on my rugby.
'Red mist'
"It's great to be back in the Scotland camp today with the players, coaches and management and I'm undertaking training this afternoon."
The prosecution had claimed a "red mist" descended on Mr Evans during the nightclub incident, and urged the jury of nine women and six men to find him guilty, under provocation, of the assault.
The Crown argued that no other witness in the case was able to support Mr Evans' assertion he had been punched first by Mr McCaig.
However, the rugby star's legal team argued that Mr McCaig, the prosecution's "star witness", was "manifestly incredible and unreliable".
His defence lawyer insisted that Evans was "decent, measured, polite and honest" and "a gentleman in the true sense of the word".
Mr Evans, a former Glasgow Warriors player, now plays for the French club Castres.
His brother Thom is also a former Scottish international.