Cyclist killed in black cab crash in Edinburgh named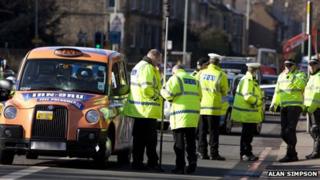 A cyclist who was killed in a collision with a black cab in Edinburgh has been named by police.
Brian Simons, 40, died at about 09:15 on Monday after suffering serious head injuries.
The accident happened on Corstorphine Road heading into the city, just past Murrayfield stadium.
An investigation is under way and police are appealing for any witnesses to contact them as it happened during the busy rush hour period.