Royal barge joins Queen's Diamond Jubilee celebrations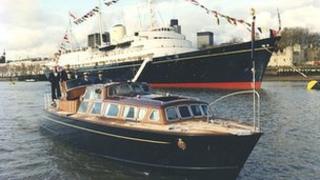 The Royal Yacht Britannia's Royal Barge in Edinburgh is to feature in the Queen's Diamond Jubilee celebrations later this year.
About 1,000 boats will gather for the Thames Diamond Jubilee Pageant on 3 June, with Britannia's barge set to be at the head of the royal procession.
It will take the Queen and Duke to The Spirit of Chartwell, flanked by two of Britannia's escort boats.
Britannia carried the Royal family on 968 official voyages.
Britannia is said to have travelled over one million miles around the world.
The Royal Barge was traditionally used to transport the Royal family to and from The Royal Yacht, until she was decommissioned in 1997.
HMY Britannia's last captain, Commodore Anthony Morrow, chairman of the Association of Royal Yachtsmen, said: "We are delighted that Britannia's Royal Barge and her two escort motor boats, all proudly crewed by former Royal Yachtsmen, will once again serve the Royal Family on such a memorable occasion in this very special year."
In January, the yacht was taken into a dry dock for maintenance.
It was the first time the vessel had been moved in 14 years. About 2,500 litres of paint were used in the restoration work.
It has now been returned to its permanent berth in Edinburgh and reopened to the public at the beginning of February.
Bob Downie, chief executive of The Royal Yacht Britannia, said: "This will be the first time in nearly 15 years that these boats have 'seen action' and it is a major undertaking for our charitable trust to have them re-commissioned, made seaworthy again, and taken to London for this historic occasion.
"It will be a day to remember for the former Royal Yachtsmen when they once again perform their traditional royal duties.
"Members of the Association of Royal Yachtsmen, the 'Yotties' will crew the boats, and the last Coxswain of the barge (until 1997), Peter 'Brigham' Young, will take the helm of The Royal Barge."