Brian McHale jailed for teenager Dale Bennett's murder in Midlothian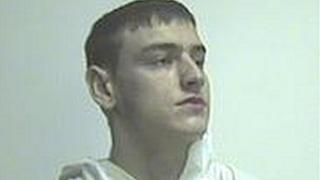 A man who stabbed a teenager to death because he came from the wrong Lothian village has been jailed for life.
Brian McHale, 21, was led to the cells to serve a minimum of 15 years, as his friends clashed with supporters and the family of victim Dale Bennett, 17.
One man was headbutted and the victim's father had to be pushed out of the High Court in Edinburgh.
The teenager was stabbed in the chest on 12 February last year.
An earlier trial heard of years of fighting between rival gangs from Gorebridge and nearby Mayfield in Midlothian.
Sentencing McHale, judge Lady Clark told him: "You have deprived Dale Bennett, a young man loved by his family and friends of his life, and that is a terrible thing to have done.
"You took up a knife and you ended up killing someone. Plainly you should never have gone anywhere near a knife that night."
She added: "There is no going back for Mr Bennett. You have caused endless grief to his family and friends and, no doubt, brought grief and sorrow to your own family."
The trial heard how Hearts fan Dale and a group of friends from Mayfield were on their way to a party with friends in Newbyres Crescent, Gorebridge.
In the street they were met by McHale and his gang and a fight broke out.
The Mayfield gang threw bottles and tied trouser belts round their knuckles - claiming they were frightened because the Gorebridge youths were armed with a spade and a broom handle.
McHale was chased into a house in Newbyres Crescent but came out brandishing a knife.
'Cold and callous'
The trial heard that he lashed out at the first person he saw, Dale Bennett.
From the start of his trial, McHale, from Gorebridge, admitted his blade had killed the 17-year-old.
He denied murder but offered to plead guilty to a lesser charge of culpable homicide.
He claimed: "I can't remember stabbing anybody. I was angry. I snapped. I can't explain it any other way."
At the end of an eight day trial a jury found McHale guilty of murder.
Defence QC Mark Stewart said he was full of remorse and realised the grief and sorrow he had brought to the Bennett family.
Det Insp Jim Robertson, of Lothian and Borders Police, said: "We acknowledge Wednesday's sentence and would like to take this opportunity to thank Dale's family for their assistance during our inquiry and for the way they handled this entire ordeal with great dignity.
"Brian McHale has shown himself to be a cold and callous character who was happy to use a knife and then show no remorse for his actions.
"The local community have been of tremendous assistance to officers throughout the investigation and helped build a comprehensive case against McHale, who was found guilty of Dale's murder as a result."