Fife man Steven Paterson admits trading in dead endangered animal parts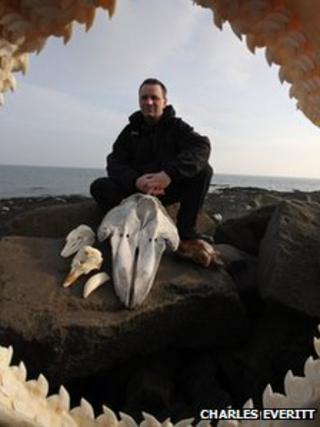 A Fife man has pleaded guilty to trading in the parts of dead endangered animals, in what is the first case of its kind in Scotland.
Steven Paterson, 48, from Glenrothes, pleaded guilty to four charges at Kirkcaldy Sheriff Court on Thursday.
He was caught when the UK Border Agency found his website, which sold animal parts he had bought on the internet and had shipped from abroad.
Paterson is due to be sentenced next month.
He was also caught during the 18-month investigation selling a green turtle and a sperm whale tooth.
Items also included a harbour porpoise skull.
PC Ian Laing, Fife Constabulary's wildlife and environmental crime co-ordinator, said: "Fife Constabulary has pledged to leave no stone unturned in reducing wildlife crime in Fife.
"As well as our native species, this includes the 5,000 species of animals and 28,000 species of plants which are protected by the Convention in International Trade in Endangered Species.
"The conviction of Steven Paterson delivers a clear message to others who intend to commit such crimes.
"I promise to pursue anyone who trades in endangered species and continue Fife Constabulary's position as the leading investigators in this area."