Baby pygmy hippo begins venturing outside at Edinburgh zoo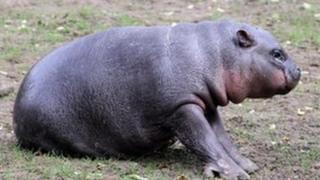 Edinburgh zoo has been showing off its latest baby pygmy hippo.
Adult pygmy hippo Ellen gave birth to her second calf Eve at the zoo at the end of last year.
For the past few months Eve has stayed inside the hippo house but this week has seen her exploring the outdoor enclosure for the first time.
Pygmy hippos are only half as tall as a hippopotamus. They are an endangered species whose numbers are declining in the wild.
Donald Gow, senior hoofstock keeper at the zoo, said: "It's fantastic that Edinburgh Zoo has such a natural mum like Ellen. She's got great maternal instincts.
"Baby Eve is Ellen's second calf and both mum and baby seem to have a really strong bond.
"Eve is a little shy and tends to stick close to mum. She's growing in confidence every day"
After lessons from her mum, Eve has started swimming. Despite their love of water, pygmy hippos have to be taught how to swim.
Adult pygmy hippos stand less than 1m (3.2ft) high at the shoulder, and are usually about 1.5m (4.9ft) in length.
Native to West Africa, they tend to weigh about 500lb (227kg).