Paedophile teacher Andrew Kingsley has sentence cut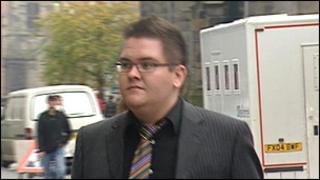 A former music teacher from Fife who admitted a string of sex offences against young boys has had his sentence almost halved on appeal.
Andrew Kingsley, 24, saw his five-year minimum term cut to two years and eight months.
However, he failed to overturn a lifelong restriction order which means he will not be released until a parole board considers it safe.
His appeal followed a change to sentencing guidelines last year.
Kingsley, from Dunfermline, had admitted committing a string of sexual offences against boys as young as 12 between 2006 and 2009.
He worked at a school in Fife for five months until his arrest in December 2009.
Trial judge Lord Pentland told Kingsley - who had pleaded guilty to a total of 31 charges - that he had been "devious" and guilty of a predatory campaign of sexual exploitation of children.
Last year, appeal court judges overruled previous guidelines for setting the punishment part of discretionary life sentences and orders for lifelong restriction.
Rapist Robert Foye and paedophile Morris Petch challenged the way their minimum sentences had been calculated and saw them halved.
Kingsley, known as Olly, went to the appeal court in the wake of the ruling.
At the Court of Criminal Appeal, Kingsley challenged his order for lifelong restriction and lost.
But the appeal court cut the minimum time he must spend behind bars.
Lord Mackay of Drumadoon - sitting with Lords Bonomy and Abernethy - said Kingsley had been sentenced before the Petch and Foye rulings and they now had to follow those guidelines.