Sepa and MoD agree beach radiation plan for Dalgety Bay in Fife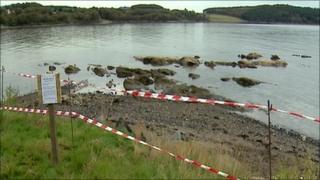 The Scottish Environment Protection Agency and the MoD have agreed a plan to deal with radioactive contamination on the beach at Dalgety Bay.
Details of the plan will be made public after being presented to the Fife town's residents on 27 March.
Some 200 radioactive particles, thought to have come from World War II aircraft, were found there last year.
Former Prime Minister Gordon Brown said he feared the action plan would not go far enough.
Confirming the agreement, a Sepa spokeswoman said: "On 29 February, in line with the timetable set by the Scottish Environment Protection Agency last November, the Defence Infrastructure Organisation (DIO) submitted to Sepa its proposals in relation to radioactive contamination at Dalgety Bay.
"Sepa has indicated that it is broadly content with the scope of DIO's plan. DIO and Sepa are now engaged in a constructive dialogue to clarify some essential elements of detail, and the plan's implementation."
Mr Brown, the local MP, said: "While I welcome the statement by the Ministry of Defence and the Scottish Environment Protection Agency, I and the community council are clear that we need a full statement of the discovery of radiation particles in the area.
"We need not only a plan for continuous monitoring but a plan for the removal of radioactive particles and either a sea wall or other remedial work to prevent particles causing safety fears again.
"When I meet the Secretary of State for Defence on 26 March I will be asking for a timetable for a cleanup plan for the area that can be implemented as soon as possible.
"This, and this alone, can lift the threat of a designation order that would label Dalgety Bay a radiation contaminated area.
"None of us want this to happen and it is up to the Ministry of Defence to take action to prevent this misfortune."
Environment Secretary Richard Lochhead said he was pleased to hear of the plan.
He added: "I have urged the Ministry of Defence on a number of occasions to take immediate action and come forward with credible plans to investigate the source of the contamination at Dalgety Bay and clean up the mess.
"While this progress is encouraging, there is still a long way to go before the problems at Dalgety Bay are fully resolved. I hope the DIO will work closely with Sepa in resolving any outstanding issues.
"And I will be speaking to the MoD this week, when I will again seek assurances that everything that needs to be done will be done."
Part of the shore was cordoned off in October for further investigation.
Dalgety Bay hosted a wartime airfield, where many aircraft were dismantled.
They were used as landfill and it is thought erosion has led to radioactive radium from the aircraft dials leaking on to the foreshore.