Flora Stevenson Primary school to reopen after asbestos scare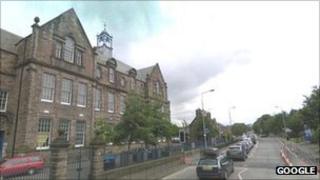 An Edinburgh primary school which was evacuated after asbestos was disturbed during work to upgrade the building is to reopen on Monday.
Flora Stevenson Primary school, in the city's Comely Bank, removed all 447 pupils and teachers on Thursday.
Pupils were taken to Broughton High School until their parents arrived.
It is understood the asbestos was exposed after a worker drilled through a board under a stairwell in the cloakroom area of the school.
Mike Rosendale, head of schools, said: "We are now satisfied after rigorous testing that Flora Stevenson's Primary School is safe and ready to be reopened.
"I would like to thank all of the staff at the school for their prompt response and assistance over the last few days.
"They played a vital role in ensuring a smooth transfer of pupils to a nearby high school as a temporary measure.
"I would also like to thank parents again for their support and cooperation throughout."