Trees felled at Water of Leith river after council U-turn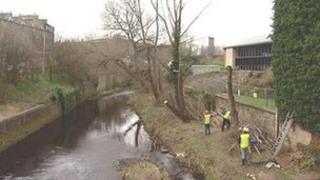 The last six trees on an Edinburgh river bank, which had been saved after local protests, are being cut down following a council U-turn.
The trees were removed as part of the Flood Prevention Scheme to protect homes close to the Water of Leith.
Edinburgh City Council said it would have cost £240,000 to preserve the trees and delay the flood scheme.
Campaigners said the council had felled the final trees in an "underhanded manner".
Protesters used a legal loophole to halt the work in November after the council had chopped down 118 of the 151 trees earmarked for felling along the river.
Work resumed soon afterwards, but campaigners said the council had promised that six trees would be saved.
However, four of those six trees were cut down on Friday. The final two were being removed on Monday.
Additional costs
Campaign group Stop The Chop Edinburgh accused the council of a "lack of transparency" and claimed that it had felled the final trees in an "underhanded manner".
However, Gordon Mackenzie, the convener of Edinburgh City Council's transport, infrastructure and environment committee, said the project included landscaping, tree planting and environmental work which would enhance the area for future generations.
He added: "The decision was taken in light of the detailed assessment of additional costs which will be incurred by the taxpayer, the over-riding need to get on with this work to protect homes and businesses and the considerable disruption and inconvenience works to retain the trees would have caused to residents of the properties concerned."