Peter Cameron and John McCarthy jailed for extortion in West Lothian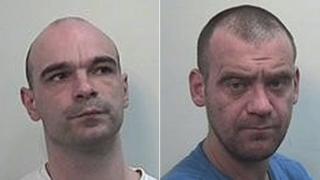 Two men convicted of organised crime offences in West Lothian have been jailed.
John McCarthy and Peter Cameron were sentenced to six years and four years respectively at the High Court in Glasgow.
They had previously pled guilty to drugs and extortion charges.
Both men will also spend a further three years on licence when released from prison.
Between June 2010 and September 2011, McCarthy and Cameron were involved in various offences including the possession of cocaine, intimidating residents across West Lothian and extorting money from their victims.
Cameron was caught by the father of one of his targets who dialled 1471 after he received threatening calls demanding payment of cash owed by his son.
In another incident, the court heard that Cameron and McCarthy demanded cash from a Bathgate man while two unknown accomplices held machetes against his cheeks while his washing machine, fridge freezer, clothes and other possessions were loaded into a waiting people-carrier type taxi.
Previous offences
During sentencing Lord Bannatyne warned the pair if they offended while out on licence they would be returned to prison.
He told McCarthy: "You have a significant record - four convictions at sheriff and jury level, three of which were for offences of violence."
Cameron also had previous offences.
Speaking after the sentencing, Det Ch Insp Phil Gachagan, of Lothian and Borders Police, said: "Both John McCarthy and Peter Cameron contributed to making the lives of others in West Lothian a misery.
"By using fear and intimidation, they were able to obtain thousands of pounds in cash from their terrified victims and were also involved in the distribution of Class A drugs."