Police bid to reunite owners with haul of 'stolen' jewellery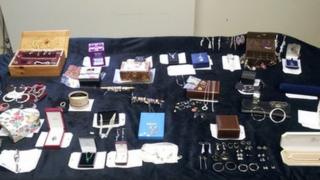 Police are trying to trace the owners of a large haul of jewellery which is thought to have been stolen in Edinburgh.
The Lothian and Borders force has released images of some of the items which have been recovered.
A 51-year-old woman was charged in connection with 13 alleged thefts in the south west of the city between 2005 and 2011.
Police said the mystery jewellery had been found during the investigation.
The woman has been reported to the procurator fiscal and is due to appear at Edinburgh Sheriff Court at a later date.
Police said a number of items of jewellery had not yet been returned to their owners.
Sgt Robert Mackenzie said: "We appreciate some items might not have been reported as stolen to the police, with people instead thinking they've been lost or misplaced.
"But we would encourage anyone who recognises any of the items in the picture to contact us - it might just reunite them with something sentimental.
"All we require in the first instance is a description of the item of jewellery and we will progress from there."