Sister in plea over missing woman Khalsoam Ali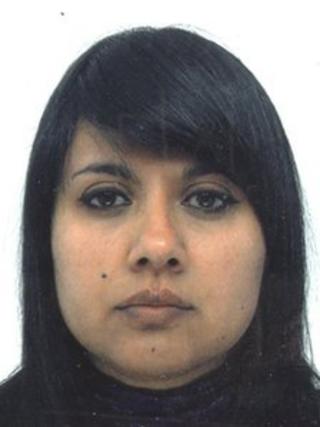 The sister of a woman who has been missing from her Edinburgh home for two weeks is urging anyone who has seen her to let her family know she is safe.
Khalsoam Ali, known as Kal, is last known to have been at her home in Dryden Street on 7 March.
However, the 40-year-old has failed to make contact with friends or family since then.
Ms Ali is the owner of the Sewing Bee Cafe on Leith Walk which rents out sewing machines by the hour.
Officers are continuing to carry out inquiries in and around Leith.
Inquiries have also taken officers to Bruntsfield, where she had visited friends before she disappeared.
She 5ft 4ins tall, of medium build, with straight dark brown hair with a fringe, a large freckle on her right cheek and brown eyes.
Hazra Iqbal, Ms Ali's sister, said in a statement: "Kal, if you are reading this we want you to know that we all love you dearly, and it doesn't matter what has happened in the past, we just want you to come home, where we will be able to help you.
"Please find a way to let us know that you are safe and well, and if you don't want to contact us then please let your friends or the police know that your ok.
"We are appealing to anyone who has spoken to or seen Kal in the last two weeks to contact the police as soon as possible.
"We are all very worried for her, and we are desperate for any information that can reassure us that she is safe."
Insp Ian Davis, of Lothian and Borders Police, said: "Kal has not been seen or heard from for two weeks now, and we are growing increasingly concerned for her safety the longer she remains missing.
"Anyone who has seen or heard from her since she went missing is urged to contact police immediately, likewise anyone who has any other information that can help us trace her should also get in touch.
"I would also like to appeal to Kal directly to make contact with police, family or friends as soon as possible to let us know that she is safe and well."