Stuck Afghan plant books delivered to Kabul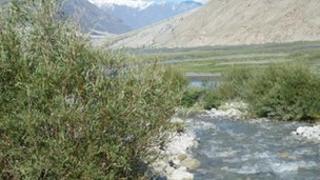 I must admit, I didn't pay much attention to the plants of Afghanistan during the short trip I made there in 2010.
I was part of a small BBC team, following a Scottish expedition to previously unclimbed peaks in the Wakhan valley.
I do remember a field of bright blue flowers, soon after we crossed the border. But, to be honest, I was more interested in the remains of a Soviet era tank by the roadside.
And there were the lush plants growing in the river bed, as we neared the end of the road at a place called Sarhad I Wakhan, where the two climbers we were travelling with planned to hire animals for their trek.
But, again, I'm afraid my mind was on other things. Chiefly the fact that the river bed was also the road.
The guide we'd hired in the village of Ishkashim, Adab Shah, and our driver discussed how to negotiate a way over the stones, and through the fast-flowing water.
But for Ian Hedge from the Royal Botanic Garden in Edinburgh, the plants of that part of the world have been a lifetime's study.
He went there in the 1960s - during a brief period when travel to Afghanistan was easy. He photographed and recorded dozens and dozens of species - many of them completely new to science.
He used that expertise to contribute to a field guide to the flora and vegetation of Afghanistan, compiled and edited by a crack, international team of botanists.
Four thousand copies of the book were sent to Kabul, so they could be given to universities, colleges, and environmental organisations throughout Afghanistan.
But a decision was made to send that consignment - which weighed more than 10 tonnes - by ship via Karachi, in Pakistan.
And for over a year, that's where the books stayed. Stuck in customs. While fearsome bureaucracies debated how best to process them, so they could proceed.
'Fantastic news'
I reported on that story at the end of January. Since then, I've stayed in touch with Ian, the book's editors who are based in Germany, and the Pakistan High Commission in London. Any news? Any explanation about why it was all taking so long?
Eventually the request came back from officialdom in Pakistan - please supply full details of when the shipment was dispatched, by which shipping agency, and please quote the Afghan Clearance number if one has been obtained.
I got scans of a whole sheaf of documentation, and sent it off. Not really expecting much. But - by complete coincidence - later that very afternoon, I got an email. The books had all arrived in Kabul.
Ian told me it was "fantastic news". Now that they were in Afghanistan, the books could play their part in, as he put it, "re-vivifying" academic life there. The publishers in Germany told me they'd be celebrating with a glass of red wine.
Last copy
And that was the end of the story. Oh, except that there is one more important detail.
Adab Shah, our fixer and guide from the Afghan border village of Ishkashim, has been given a grant by the Linda Norgrove Foundation - a charity based on the Isle of Lewis, which was set-up to commemorate the aid worker killed in Afghanistan.
Adab has used the money to buy trekking gear, so he can run a tourism business for people who visit the Wakhan. So he'll be in contact with more mountaineers and walkers, like the expedition we were following.
Now Ian is sending Adab a copy of the field guide to plants, so he and his clients can identify the species they see.
Actually, not just "a" copy. It was the last copy of the book. Which he'd been saving, to give to someone special.
So, of course the news from Afghanistan continues to be bleak, with reports of carnage and the courage of British service men and women there.
But sometimes, in the middle of all that, I stop and think about that bright young man. With the initiative and drive to start his own business.
I imagine him looking at that book. Learning more about his country. Caring for it. Promoting it. And growing a future for himself.