Injured North Berwick rugby player Jonny Mitchell dies aged 30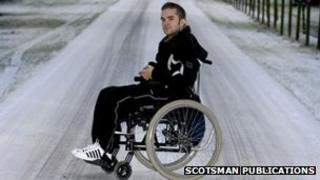 A former rugby player has died almost seven years after being seriously injured during a match.
North Berwick RFC captain Jonny Mitchell was left wheelchair-bound when he suffered a spinal injury in a scrum during a game against Hawick Linden in September 2005.
The father-of-two died at the age of 30 in the early hours of Monday morning.
North Berwick RFC president Jim Littlefair said Mr Mitchell's death was a "terrible loss to everyone in rugby".
Mr Littlefair had helped establish the Jonny Mitchell Trust Fund to help Mr Mitchell and his family deal with the sudden demands of being wheelchair-bound.
He said: "Jonny never once said 'why me?' and, as an experienced front row player, he accepted that what happened to him was just a freak accident.
"He was a tremendous character and was passionate about the game of rugby. He always said, if he could, he'd be back training with the team.
"All of our lives changed the day Jonny was injured and he's been in our thoughts since that day and he will remain there."
Professional and club players alike joined in the fund-raising efforts for Mr Mitchell and his family, and they also received help from charities Hearts and Balls and the Murrayfield Centenary Fund, which aims to assist players, and those connected with the game, who have been seriously injured.
Scottish Rugby Union President, Ian McLauchlan, said: "Jonny showed such tremendous courage in the face of adversity. He loved the game of rugby and even after his injury didn't turn away from the sport.
"I'd like to pass on sincere condolences, from everyone at Scottish Rugby, to Jonny's family for their loss."
Mr Mitchell is survived by his wife and two daughters.