Patients to check-in themselves in NHS Lothian hospitals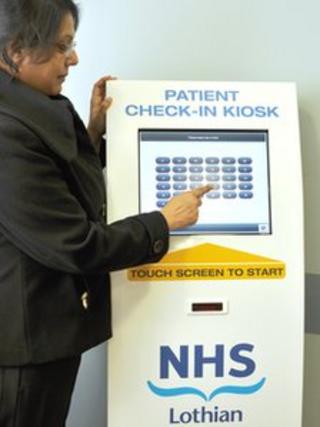 Self check-in kiosks, similar to those used in airports, are being installed for patients in Lothian hospitals.
The machines, part of a new pilot project, will be introduced into the Western General Hospital and Edinburgh Royal Infirmary.
They will let patients to check-in for their appointment themselves, rather than wait to speak to a receptionist.
Patients swipe their finger over the touch screen and input their details into the machine.
It takes about 30 seconds to check-in using the kiosks.
Martin Egan, NHS Lothian's director of e-Health, said the specially-created kiosks would be "completely secure" and would not store sensitive patient information.
He said: "These kiosks will help NHS Lothian provide a more streamlined, efficient service for patients.
"It means that patients can arrive for their appointment and check themselves in.
"It will help save them time and in some cases even provide more privacy because details will not have to be discussed at the desk."
There are four kiosks being used in the pilot, which will last three months.
If successful, the devices, which cost about £3,000, could be rolled out to other areas across NHS Lothian.
The kiosks will sit beside reception desks in two clinics in the outpatients department of the Western General Hospital and two ultrasound clinics in Radiology at Royal Infirmary of Edinburgh.