Newsagent Martin McColl fined for mouse problem in Edinburgh shop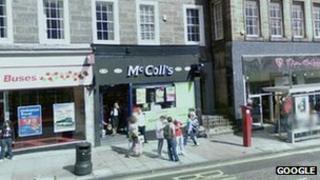 A newsagent has been fined by a sheriff for allowing food gnawed on by mice to be put on sale in an Edinburgh shop.
Martin McColl Ltd has been ordered to pay £1,000 after the discovery was made at the firm's Hanover Street branch.
Edinburgh Sheriff Court heard how packets of crisps had been contaminated by the rodents in June 2011.
Essex-based McColl's pled guilty to one charge of contravening the Food Hygiene Scotland Regulations (2006) and the EC Communities Act (1972).
The company were originally facing a total of four charges of violating food safety regulations.
However, prosecutors agreed to drop three of the claims in return for a guilty plea to one charge.
The court heard how workers from Edinburgh City Council's Environmental Health Department visited the shop on 3 June 2011.
They found shop workers hadn't cleaned up droppings from the mice.
They were then able to draw the conclusion that the animals had "probably urinated" in the general area.
After hearing the circumstances of the case, Sheriff Michael O'Grady said he thought it was appropriate to fine the company.