Kassidy to headline Rock 'n' Roll Edinburgh Half Marathon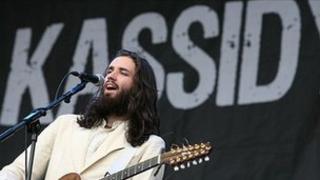 Indie band Kassidy are to headline the UK's first rock 'n' roll half marathon in Edinburgh.
The band will play at the post-race concert on 15 April with a host of up-and-coming bands performing at mile points along the course.
The race will start and finish in Holyrood Park, making a loop around the city centre.
Hitchcock Blonde, Millsyeck, Homework, The Detours, Red 2 Red, Japan Four and Cow Cow Boogie will play en route.
Also playing will be Jacky Forty Feet, The Deadly Winters, Robbie Reay and The Killer Cats, The Asps, hip hop act and Mobo Unsung nominee Stanley Odd and American indie band Dolalay.
Shannon Davis, the event's marketing manager, said: "We had an overwhelming response to our call for bands to perform at the UK's inaugural Rock 'n' Roll Edinburgh Half Marathon and we've got a great line up of performers that will keep our runners, volunteers and supporters entertained along the race route.
"You can expect to hear everything from hip hop and indie to reggae, rock 'n' roll and country boogie, it really will be an uplifting soundtrack to the race."