Horses targeted in two incidents at West Lothian farms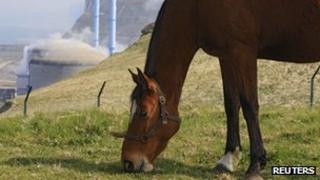 Police are investigating after part of a horse's mane was cut off during two suspicious incidents at farms in West Lothian, police have said.
The three-year-old pony had its forelock cut when a paddock was entered in Drumshoreland Road, Pumpherston.
In a separate incident, the padlock on a gate at the West Lothian Riding for the Disabled centre on the A904 at Abercorn was forced off.
Police said the incidents were malicious and appealed for witnesses.
The pony, a Welsh section A, had its forelock cut off on Monday 9 April.
The second incident, where a padlock was forced off a gate in Abercorn, occurred between 20:00 on 9 April and 09:00 on 10 April.
No horses were injured in the incidents but the pony which had its forelock cut will not be able to be shown at forthcoming events.
A police spokesman said: "Local officers will be visiting all rural land in the surrounding areas of these properties to offer appropriate crime prevention advice to workers and residents.
"Farmers and those who live in the country are asked to be vigilant and if they witness any criminal activity should contact police immediately.
"Lothian and Borders Police will work closely with our partners at NFU Scotland to tackle rural crime, bring those responsible to justice and ensure farmlands are suitably protected against theft and other crime."