Warning after another horse's mane cut off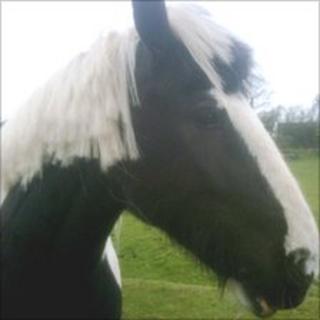 Horse and pony owners in the Lothians are being urged to be "vigilant" after more reports of mane and tail hacking.
Jennifer Rae, discovered the mane and forelock had been hacked off her gypsy cob, Jay, 10, in Bonaly, Edinburgh on Monday between 18:30 and 19:00.
It follows two incidents in West Lothian on 9 and 10 April where horse's manes were cut off.
The Scottish SPCA said another competitor may have sabotaged the horse, or thieves could be involved.
Senior Inspector Stuart Murray, of the Scottish SPCA, attended the incident and found the horse to be shaken but otherwise unharmed.
Mr Murray said: "There are a number of reasons why this horse's mane and forelock may have been cut off and, while this would not have caused the animal any physical harm, it is likely to have been frightened by this disturbance.
"This may well be an act of sabotage by another owner to stop this particular horse competing in events.
"It could also be a sign that someone intended to steal this animal as thieves will often cut or plait the manes of the horses or ponies so when they return with transport their target is easily identified.
"Incidents such as this have also been suggested to be linked with Satanic practices or witchcraft.
"We are urging all horse and pony owners in the Lothian area to be vigilant."
Jay's owner, Ms Rae said: "He's normally a really canny horse but as soon as I entered the field last night he swung his back end out and kicked at me before running off.
"He's been very jumpy ever since this happened and it's such a shame.
"Jay loves his food so if someone had a bucket of feed then I can imagine they'd be able to cut his hair quite easily, I just can't understand why anyone would do this.
"We were planning to compete in the showing season, but that is in doubt now because Cob classes are strict and your horse should either be all natural or completely hogged (shaved). If I do this it will take two or three years to grow back."