Edinburgh Royal Infirmary power cuts 'risk lives'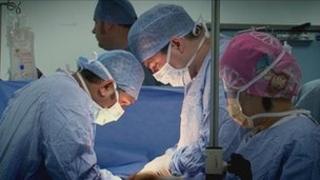 Health officials are considering legal action after an operation had to be finished by torchlight in Edinburgh.
Workers cut off the power at Edinburgh Royal Infirmary by mistake, leaving surgeons working in darkness as they tried to sew a patient up.
NHS Lothian said it "can no longer tolerate" power cuts at the hospital.
NHS Lothian said it was consulting lawyers over its contract with Consort, the company which looks after the building.
It said it could no longer tolerate the "repeated and potentially life-threatening nature" of such incidents.
It follows an incident on 29 March where two of the hospital's operating theatres were affected and a back up system failed to start.
Alan Boyter, NHS Lothian's executive director, said: "We have reached the point where we can no longer tolerate the repeated, serious and potentially life-threatening nature of these incidents at the Royal Infirmary of Edinburgh by our PFI provider Consort.
"We are currently consulting with our lawyers to discuss what options we have in relation to the contract and it would be inappropriate to comment further while that is ongoing.
"Patient safety is always our absolute priority and we will not allow that to continually be put in danger by a third party."
Dr David Farquharson, NHS Lothian's medical director, had earlier accused Consort of failing to follow the hospital's critical procedures.
He said last month's incident involved one patient who was preparing to undergo a procedure but because it had not begun, the operation was delayed until full power was available.
Another procedure was being completed and the hospital's team of expert staff "worked admirably" using well-rehearsed business continuity plans to ensure that the patient did not come to any harm, he added.
Dr Farquharson said: "The safety of patients is paramount in NHS Lothian and we have systems in place to ensure that power is never lost from any operating theatre.
"Planned maintenance was due to be carried out on the power supply after surgery was complete, but Consort failed to follow our critical procedures. Disciplinary proceedings are now underway.
"We feel let down that our patients and staff were put in this position".
Stephen Gordon, a director of Consort, said the power had been disrupted for about 10 minutes on 29 March.
He said: "Consort has taken this incident very seriously and have undertaken a thorough investigation into this matter in conjunction with NHS Lothian to review the current operating procedures in place for works of this nature."