Mother tells trial James Paterson jumped on her while she was pregnant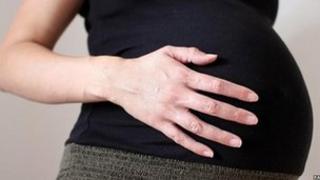 A woman has told the trial of a man accused of trying to kill her and two others that he jumped up and down on her stomach while she was pregnant.
James Paterson, 23, denies attempting to murder three pregnant women, raping two of them and attacking two babies at addresses in Fife and Edinburgh.
The 25-year-old woman told the High Court in Aberdeen he attacked her after coming home from a night out.
She said: "He jumped on my belly like it was a trampoline."
The woman also told the court that Mr Paterson throttled her three times until she blacked out during a string of violent attacks that began when she was between four and five months pregnant.
Describing one of the attacks, she said: "He just jumped on the bed and kicked his right foot up in my face. He then started kicking me in the stomach, jumping on my belly.
"I said, 'you're going to have to stop, you're going to kill the baby'.
"He said: 'I'm not bothered'."
Cupboard 'threat'
The woman said on another occasion, when she was pregnant with another child, Mr Paterson jumped on her stomach again.
She claimed that he said he was helping her "get rid" of the baby.
The 25-year-old told the court that Mr Paterson would threaten her if he suspected she was going to tell the police.
She said: "He said he would shut me in a cupboard, take my phone off me and leave me with no food or water."
Later, defence agent Gordon Martin said there was evidence to suggest that the woman spat on Mr Paterson during one argument and told him she was going to sleep with someone else during another.
He said: "You are trying to present the picture that you were so frightened of him that you couldn't tell the police.
"If he was the sort of man who would kick you in the head why would you argue with him?"
She replied: "Every single argument I have with him I'm not going to sit and take it."
The trial also heard evidence from Det Con Emma Clark, of Fife Constabulary, who said she interviewed Mr Paterson in relation to a baby who was found to have skull and rib fractures following hospital checks.
Det Con Clark said the 23-year-old admitted he had dropped the baby twice and later admitted the child had fallen from a bouncer chair onto the bathroom floor when he tried to pick the chair up with the baby in it.
'Self defence'
Mr Paterson is charged with causing the woman to lose consciousness by squeezing her neck.
He is further accused of forcing her into a car, punching her on the head, repeatedly stamping on her stomach and head butting her while she was pregnant.
The 23-year-old denies all the allegations against him and has lodged a special defence of self defence against the woman and another of his alleged victims.
He is accused of trying to murder all three women, endangering their lives and leaving them severely injured and permanently disfigured.
He is further accused of attacking two babies, sending threatening text messages to his third alleged victim and failing to appear in court.
Mr Paterson faces 11 charges which date from between January 2006 and July last year.
The trial continues.