Fife man James Paterson 'sent woman death threat text'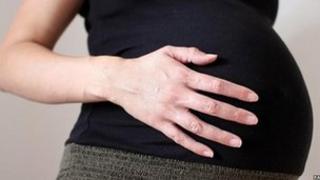 A man accused of trying to murder three pregnant women sent a text to one threatening to kill her with his bare hands, a court has heard.
Jurors heard closing speeches in the trial of Fife man James Paterson, 23, who is also alleged to have raped two of the women and attacked two babies.
Advocate depute Kath Harper told the jury a series of text messages were "highly significant" to the case.
Mr Paterson denies charges dating between 2006 and 2011.
The trial was told a text to one woman said: "I will slit your fat face wide open."
Another text, retrieved from the phone of Mr Paterson's third alleged victim by forensic officers at Fife Constabulary, read: "I will kill you with my bare hands."
Advocate depute Harper said: "These texts are clear evidence of the nature of the accused.
"These texts tell you that what these young women are telling you is credible.
"They are threatening, they are bullying, they are violent, they are frightening.
"In these texts he discloses to you what type of man he is and what type of behaviour in which he indulged, but usually behind closed doors where nobody could see and nobody could stop him."
Defence agent Gordon Martin said Mr Paterson had admitted sending the messages to the woman but did not intend to harm her.
Mr Martin told the jury the woman who received the texts was not credible.
He alluded to evidence given by his client's mother Maxine, 45, who admitted seeing her son pull the hair of one of his alleged victims and drag her to a car after she spat at him.
Lies claim
Mr Martin said he could not understand why, if Mr Paterson was the "controlling and violent man" she had painted him as in court, she had spat in his face.
He told the jury: "It's like going into a cage with a fighting bear and poking it."
He added: "She is a liar. No more, no less."
Mr Paterson, of Cardenden, Fife, denies trying to murder three women, who were all pregnant at various times, endangering their lives and leaving them severely injured and permanently disfigured during a string of attacks in Fife and Edinburgh.
He further denies raping two of the women, choking two of them until they lost consciousness and assaulting two babies.
Mr Paterson is further accused of sending threatening text messages to one of the women, threatening her mother with a baseball bat and failing to appear in court.
The jury is expected to retire to consider its verdict on Thursday.