Jim Leishman elected as Labour councillor in Dunfermline Central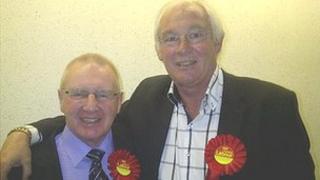 Former Dunfermline Football Club manager Jim Leishman has been elected as a Labour councillor in Fife.
Mr Leishman, who is now the club's director of football, was elected at the first stage of counting in the Dunfermline Central ward.
The former professional footballer won the highest number of first preference votes, with a tally of 1,608.
However, Gail Sheridan, wife of former MSP Tommy Sheridan, failed to get elected in Glasgow.
Mrs Sheridan, whose husband was jailed for perjury, stood for his Solidarity party in the Cardonald and Craigton ward.
Mr Leishman was backed by former Prime Minister and Labour MP Gordon Brown and former First Minister Henry McLeish in his election campaign.
Wife died
Mr Leishman said: "I didn't take the whole thing for granted, I went and knocked the doors and met the people from the ward and found out what they wanted and what the local issue was.
"What I said to the people was, I'm not a heavy weight politician but you have cared about me in the past, especially when my wife died, and so it's time I put something back, outwith the football, to the community."
Mr Leishman is a well-known figure in the region, having played for both Dunfermline and Cowdenbeath before moving into football management.
The other councillors elected in the Dunfermline Central ward were Lib Dem Joe Rosiejak, the SNP's Neale Hanvey and Mr Leishman's fellow Labour candidate Bob Young.
· All the latest election results are available at bbc.co.uk/vote2012