Pastures new for Udderbelly promoters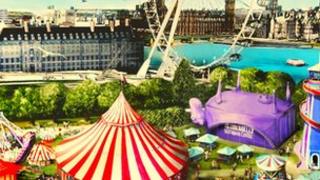 Edinburgh festival promoters Ed Bartlam and Charlie Wood have extended their regular fringe venue - the Underbelly - to London.
The familiar purple cow - otherwise known as the Udderbelly - is currently perched - upside down - beneath the London Eye, where a string of shows are being staged in the run up to the London Olympics and beyond.
But Ed and Charlie are also the proud owners of another new venture.
Regulars at the Edinburgh Festival will be familiar with the concept of the Spiegeltent - the mirrored cabaret tents which once toured towns across Europe.
Last count, there were at least three in Edinburgh, offering cabaret, theatre, book readings and children's shows.
Only a handful of the original tents survived the second world war and a change in public taste (although you'll find little souvenirs of mirrored glass in shops and pubs across Belgium).
But a dismantled spiegeltent was recently discovered in a shed in Belgium.
Eclectic mix
With space for 700 seats it's one of the biggest and was swiftly snapped up by the duo for their London site.
When I visited at the weekend, the carpenters were hard at work, restoring the whole tent to its former glory.
The carnival theme continues outside where dodgem cars double as restaurant tables.
The new season begins with a vaudeville show - Cantina - featuring stars from Fringe favourites like La Clique and Circus Oz and continues with an eclectic mix of music, magic and burlesque.
Sadly, the newly discovered Spiegeltent is not travelling north for the Edinburgh Festival Fringe, although Ed and Charlie are, along with the Udderbelly, and what they promise will be a burgeoning festival programme.
It'll be announced - along with the rest of the Edinburgh Fringe programme - on May 31st.
Meanwhile, the new spiegeltent - known as the London Wonderground - officially opened for business on Tuesday and will expand across its embankment site once the cow and its pasture move out.